We are committed to being

Green

at the Concord Suites!

You can enjoy your vacation AND reduce your environmental impact by staying at the Concord Suites.



Our Rooftop Solar Array

A Solar Celebration was held in June 2012 unveiling our $500,000 Rooftop Solar Array and additional "green" initiatives that are reducing operating expenses, keeping costs down for patrons and making the resort more environmentally sound and efficient.

The 434 rooftop panels, which provide 63% of the Concord Suites overall energy usage, also reduce the carbon emissions that impact the Concord's surrounding environment by more than 60 tons annually. The result is a greener, cleaner resort that benefits the Concord's guests, employees and the environment.

Visit the live feed to our system and see production values and environmental savings.
www.mypvpower.com/dashboard/273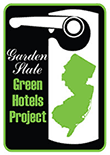 A Green Hotels Project
Concord Suites is pleased to have been accepted into the Garden State Green Hotels Project in partnership with the US Environmental Protection Agency, NJ Department of Environmental Protection, NJ Board of Public Utilities, US Green Building Council – NJ Chapter
The Project helped us to reduce energy usage, upgrade to more energy efficient equipment, obtain training for employees on waste reduction and water conservation and discover alternatives to harsh chemicals to protect our guests & employees.
How you can go
Green


for your Vacation

Choose the Concord Suites for your vacation - a Green Hotel.
Turn off the AC/heat, lights and television when you leave the room.
Let housekeeping know that you would like to participate in the linen and towel reuse program.
Use our 2 Hydration Stations and refillable water bottles.
Open the drapes during the cooler months to let the sun naturally heat the room, and close the drapes in the summer to keep the room cool.
Take only maps or brochures necessary for your trip.
Look for recycling bins in your suite and throughout the hotel and dispose of items appropriately.
(L to R) NJ Department of State, Division of Travel & Tourism Executive Director, Grace Hanlon; Ky Asral of the NJ State D.E.P.'s Garden State Green Hotels Project; and Concord Suites General Manager Susan Cawley in front of the 434-panel rooftop solar array at the Concord Suites, in Avalon, NJ
Just how "Green" is the Concord Suites? We have met all of the following requirements to earn our certification:
Installed Huber Optik ceramic window film in every guest suite and the lobby.
Installed low flow shower heads, faucets and aerators.
Replaced all lights in the building with CFL and LED.
Upgraded all air conditioners and heaters to high efficiency Energy Star units.
Installed digital programmable thermostats with lock out parameters.
Upgraded gas domestic hot water boilers to high efficiency models.
Installed a 104,000w solar system.
Use 100% tree free tissues, toilet paper and paper towels.
Use 100% recycled paper in the office.
Use ERP (Environmentally Responsible Products) amenities packaged in biodegradable bottles.
Partnered with Clean the World to recycle unused amenities.

Implemented a towel and linen reuse program.
Use environmentally friendly, all natural citrus based cleaning products.
Installed Brita Hydration Stations for refillable water bottles.
Implemented a prominent recycling program in all suites and common areas.
Concord Suites is…